Hey there! Some links on this page are affiliate links which means that, if you choose to make a purchase, I may earn a small commission at no extra cost to you. I greatly appreciate your support!
This post shows you the best entry table decor ideas.
Your entryway sets the tone for your apartment! This post will look at some of the best entry table decor ideas.
In my opinion, an entry table should be both functional and pretty.
A good entryway usually includes a large mirror and a spot to leave essential items like keys.
If you live in a small apartment, your entry is also a place to squeeze in some extra storage.
One of the best ways to do that is with baskets you can place underneath the entry table.
A woven basket looks cute and offers space for blankets or extra pillows.
But this post is all about decorating ideas for entry tables, so let's get into it.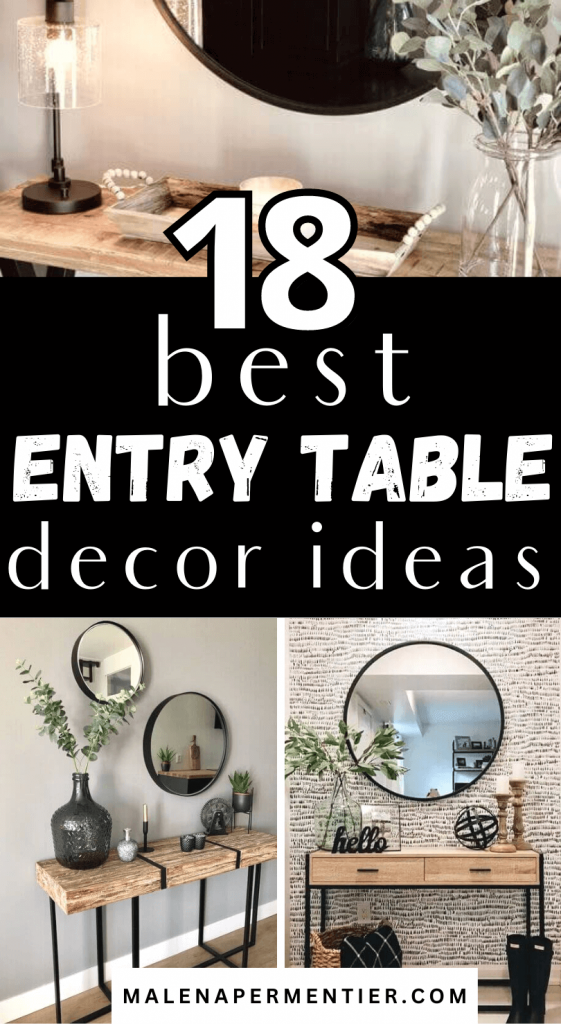 Entry table decor ideas
1. Wood and metal entry table decor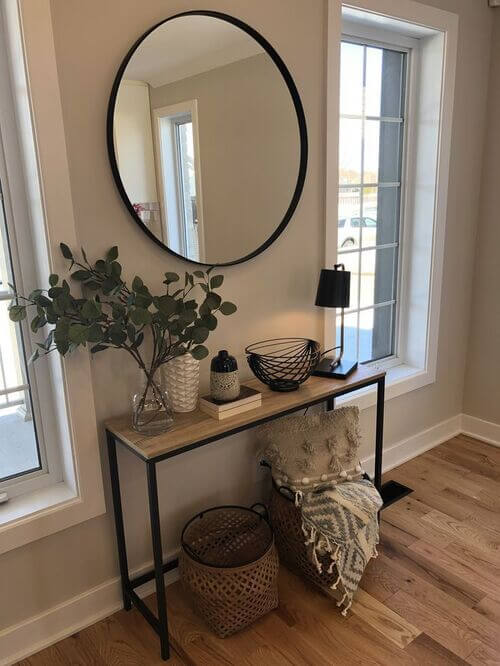 A fail-proof formula for creating beautiful entryway decor is sticking to only two materials—wood and metal.
This makes your entry table automatically look put together.
You can also do gold hardware, black, or silver and dark wood.
Dried greenery in a simple, clear vase is popular for entryway decor, and I understand why.
It looks beautiful and understated!
2. Entryway table with lamp and dried greenery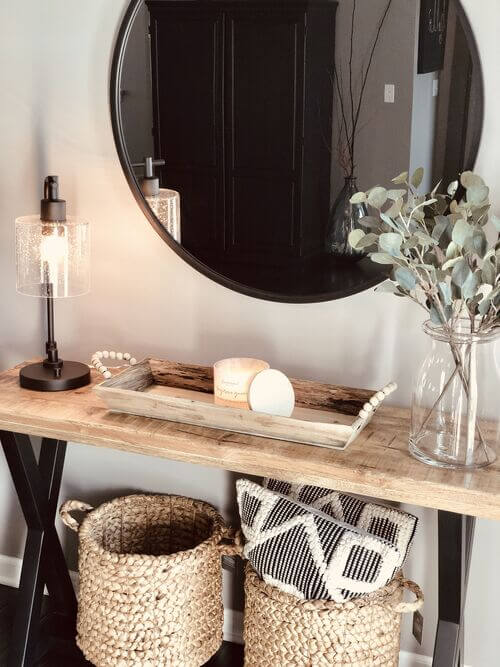 Decorating your entry table with a lamp is both pretty and functional.
Pick a lamp the same color as the hardware or the top of your entry table.
The reclaimed wood entry table looks great with woven baskets underneath.
If you stick to two primary colors, you can play with different materials within the same color scheme.
3. Get creative with entry table mirrors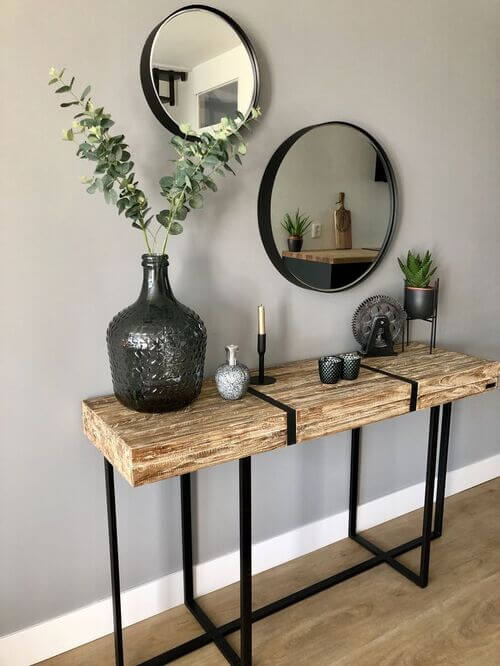 Mirrors are great for giving a unique touch to your entryway.
You can pick a mirror with a unique frame or hang two different-sized mirrors alongside one another.
This entry table decor has cleverly used only two main colors: black and wood.
The touch of green freshens up the area.
When you decide on the color scheme before buying decor, it will be easier to pick the right pieces.
4. Farmhouse entry table decor with light wood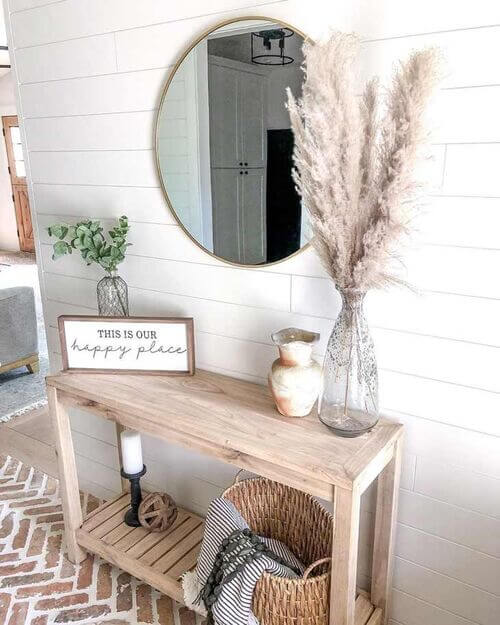 Light wood or reclaimed wood is an excellent base for a farmhouse entryway.
Pampas grass is one decorative item that looks amazing with light wooden furniture.
You can also bring in the warmth of a ceramic vase set with different earthy colors.
Gold hardware also looks great with light wood, as you can tell from the mirror.
There are many types of gold-framed mirrors.
I like a more muted shade of gold instead of something very shiny.
A muted gold shade is also more versatile when bringing in other furniture and decorative items.
5. Gold and wood entry table decor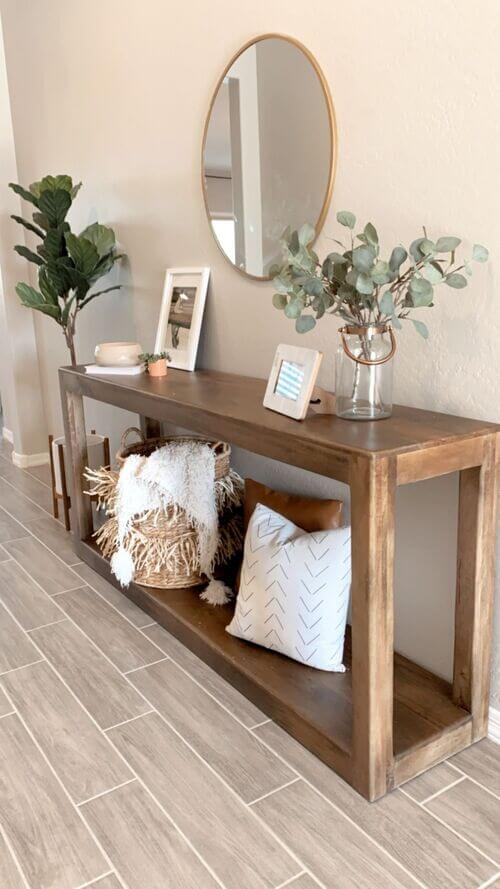 If you have the space, go for a long entry table.
Because entry consoles are so narrow, they don't optically block your view into the space.
Bring neutrals in different materials and textures with your wood + gold entry table decor.
One of the things that makes this entryway look elegant and put together is the clever use of different materials and patterns.
6. Entryway fall decor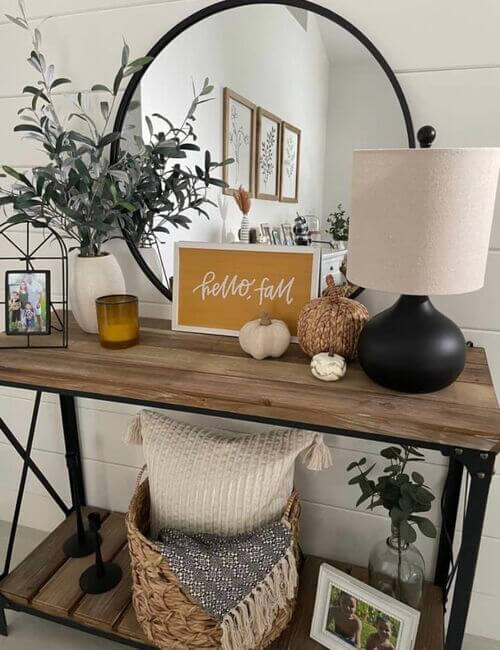 Entry tables are an excellent spot for seasonal decor.
This doesn't have to be complicated! Nor does it mean you have to change up your entire entry table decor.
Adding a few decorative pumpkins and a cute farmhouse sign goes a long way for fall.
I also like adding fall-themed stems to a vase, like these brown silver dollar leaves.
7. Farmhouse Cathedrale mirror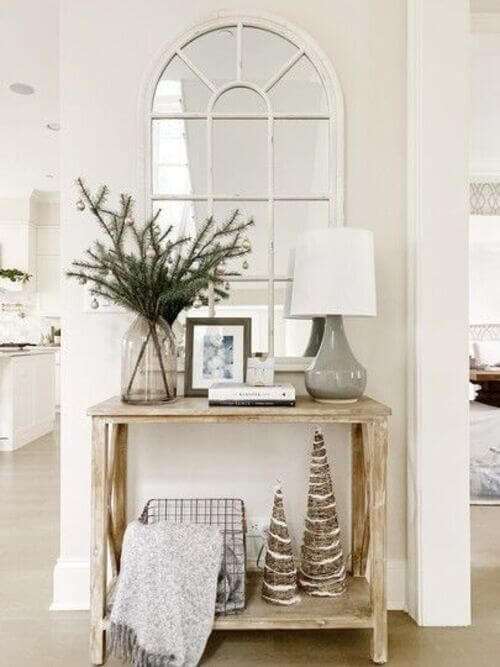 How cool are these Cathedrale farmhouse mirrors? I love the mixing of materials and neutral colors in this entryway decor.
The mesh storage basket for blankets is a fun surprise that elevates this decor.
Little entryway decor tip: Get a large clear vase that you can use for decorating throughout the seasons.
In the spring, you can decorate with lambs ear leaves, or eucalyptus.
For winter, these snowy pinecone branches are gorgeous.
8. Entryway decorated with peel-and-stick wallpaper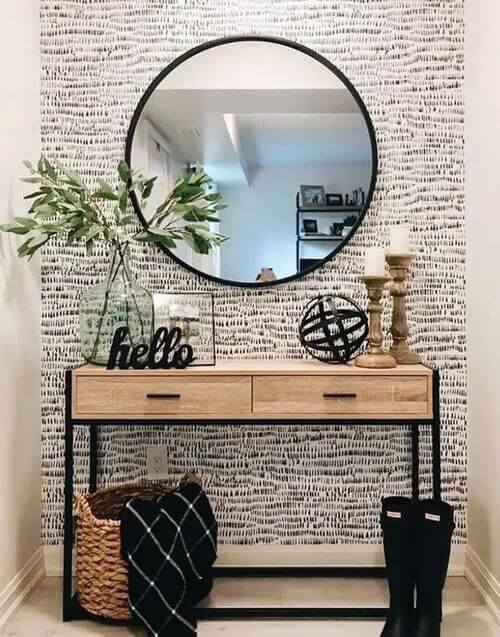 If you want to get super creative with your entryway, consider decorating with peel-and-stick wallpaper!
Your entry is a great place to experiment with funky wallpaper.
If you don't want to use wallpaper, you can also paint the wall behind your entry table a cool color.
9. Black and wood entry table decor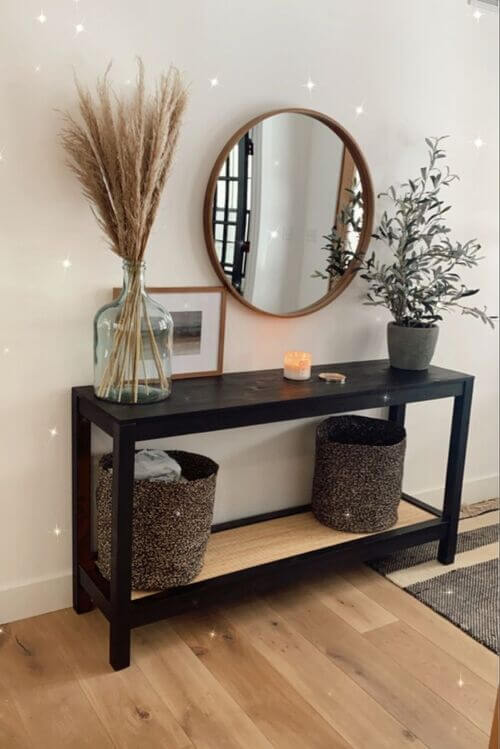 Simple but sweet! A black wood entry table is a versatile base for decorating.
Remember to pick decor (like vases and mirrors) that matches the scale of your entry table.
With a large entry table like this, you will need a mirror at least 36″.
The annoying part is that this particular size is often sold out for popular designs like this Kate & Laurel mirror.
For pampas grass and eucalyptus stems, you can get these in an extra-large size to fit your vase!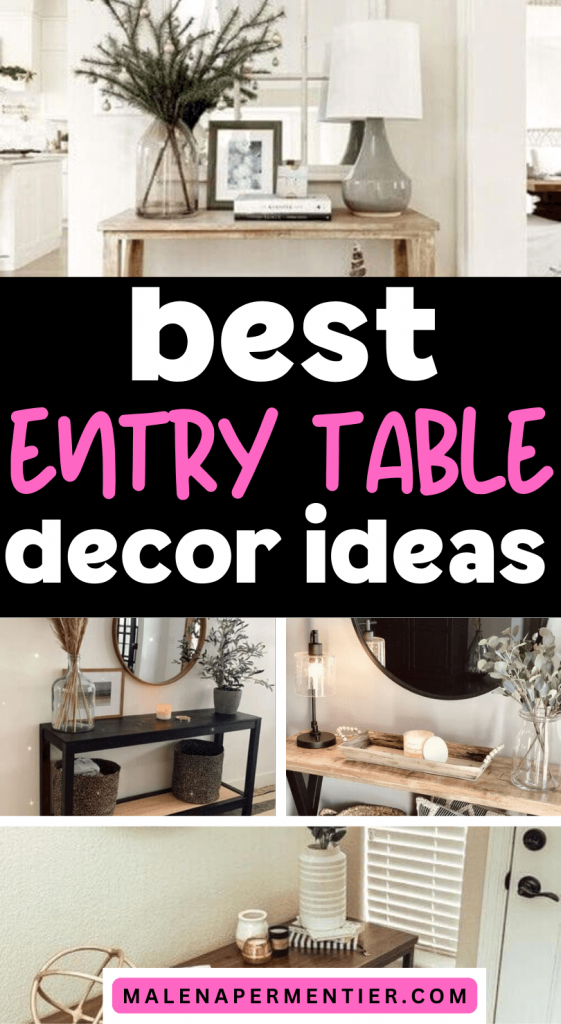 10. Entryway with storage bench and round-edged mirror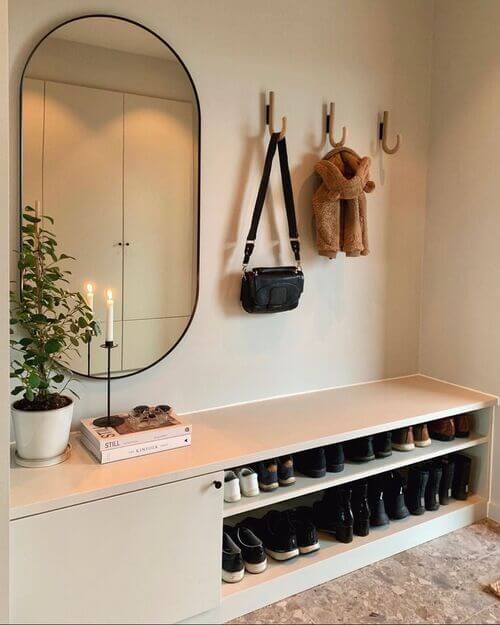 An alternative to an entry table is an entryway bench.
Ikea has some great options when it comes to entryway furniture.
So if you're looking to recreate something similar, check that out.
For smaller, more compact entryways, Amazon has excellent bench options that also offer some storage space.
The mirror with round edges and wooden hooks to hang coats is a fun touch about this entryway.
11. Modern and elegant entry table decor
This entry table decor is so elegant!
A large mushroom-shaped lamp is a must-have to recreate a modern, elegant entry table like this.
I also like the round mirror leaning against the wall instead of hanging above the table.
Pick a few sizeable items, like a lamp and a ceramic vase.
Then add a few smaller items like a picture frame and wood chain link.
I recently found this tissue box cover, and it's such a game-changer! Goodbye, ugly packaging, and hello elevated apartment decor :).
12. Simple entryway table decor with greenery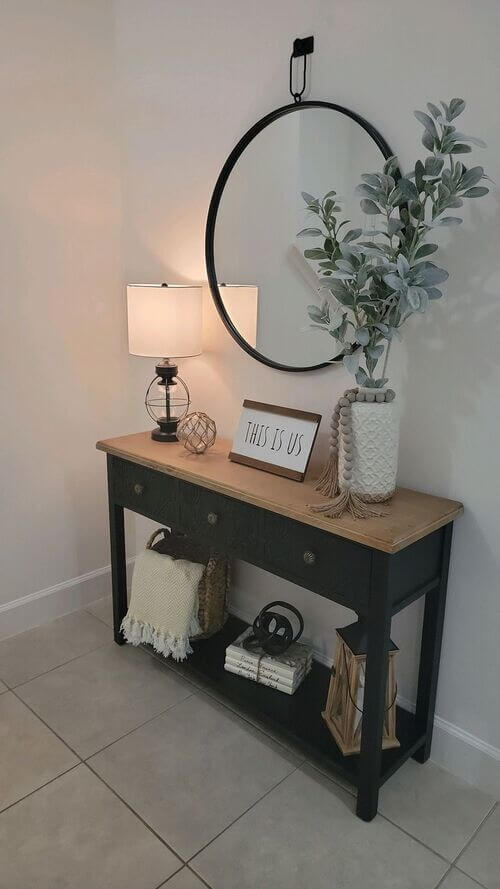 I love entry table decor that makes me feel like I could easily recreate it.
Lamb's ear leaves are a type of greenery that looks elevated and pretty.
Pick extra tall stems to go with a large ceramic vase.
Fun decorative touches to consider are a wood bead garland and a wooden farmhouse sign with a cute quote.
13. Warm wooden entry table decor with olive stems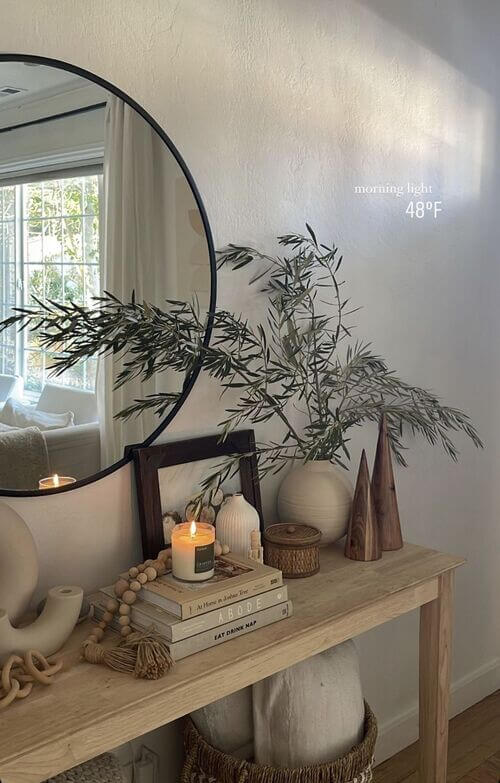 This entry table decor is an excellent example of how to mix different textures and materials.
Although the entryway uses neutrals exclusively, the whole set up looks super exciting and chic.
Easy entry decor tip: stack a few books in the same color as a base for a decorative ornament and a wood bead garland.
14. Neutral entryway table decor with earthy colors