This post shows you the best kitchen counter ideas.
Are you looking for a way to spice up your kitchen with countertop decor?
This post shows you a complete list of the best kitchen counter ideas that cover organizing and decor.
The perfect kitchen decor for you
Finding the perfect little detail to add to your kitchen can be hard.
You want to ensure that everything ties in together without making the decor fade into the background.
First of all, you need to focus on functionality and then style.
Especially if you are looking for something specific for your kitchen counter.
This list includes a ton of different styles based on unique ideas.
You can use this as a guide to creating the perfect kitchen space that suits your needs.
1. Wooden Board and flower tray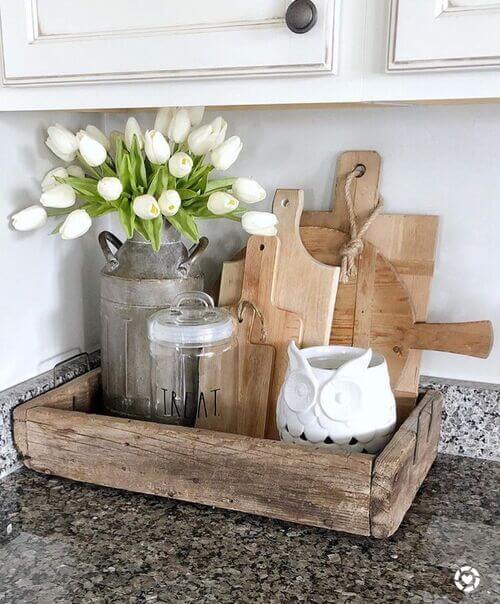 Do you have a lot of wooden boards but nowhere to put them?
In that case, you can create a tray filled with all your wooden board.
Considering that you want something that doesn't take up too much space this would be the perfect idea for your kitchen.
2. Wooden tray and condiment dispensers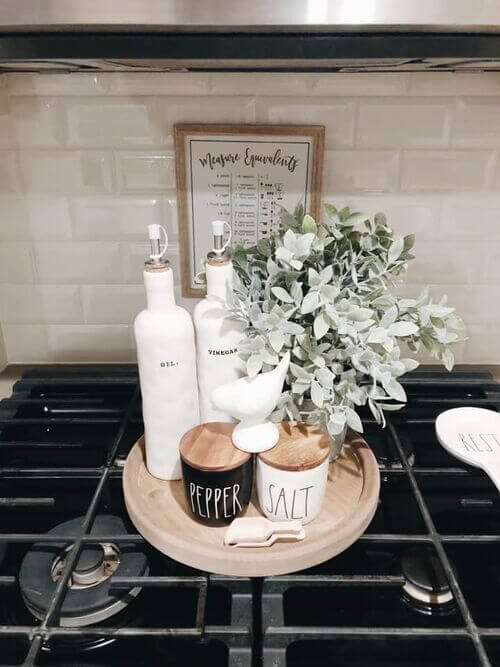 These ceramic condiment pieces are simple and a beautiful addition to the kitchen.
You can place them all into a wooden tray and add some herbs to your cooking.
3. White and wood kitchen utensils decor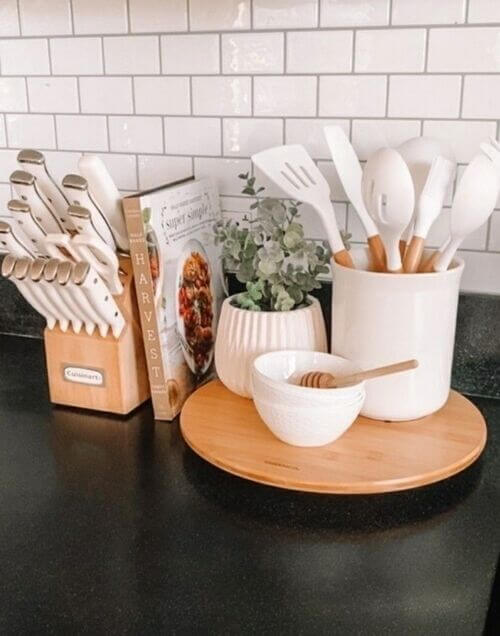 Keep things bright by sticking to the basic wood and white utensils.
You can also add some succulents and cookbooks to fill the space a little more.
4. Cookbooks and succulent decor
Add your cookbooks and succulents to the kitchen counter.
It fills the unnecessary empty space while staying functional.
5. Coffee nook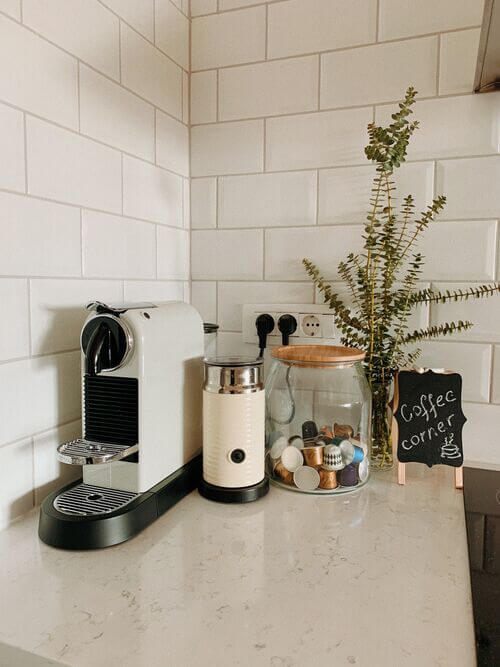 This little coffee nook sticks to the basics.
You have your coffee machine, milk frother, and a jar filled with your coffee pods.
6. Keeping the basics together on a tray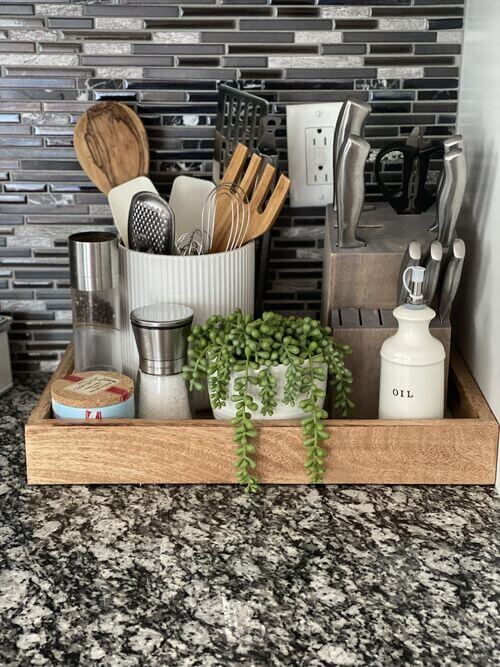 Keep your kitchen essentials all together.
Knives, condiments, and utensils are all in one place for an effective and simple counter decor.
You can add some greenery if you want to liven things up.
7. Wood and white ceramic coffee nook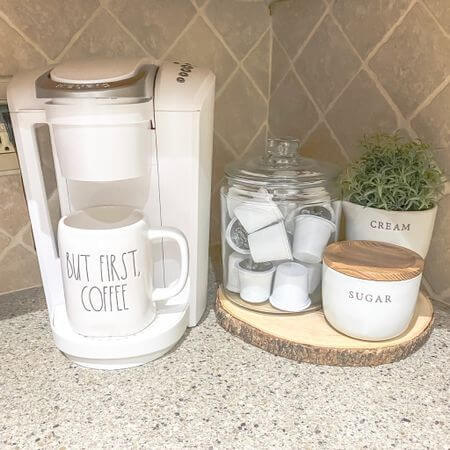 Wood circles have become a trendy decor piece.
They add a unique touch to the kitchen, and you can use them as a stand for your ceramic sugar and coffee pods.
This little coffee nook is something that every kitchen needs.
8. Countertop tea essentials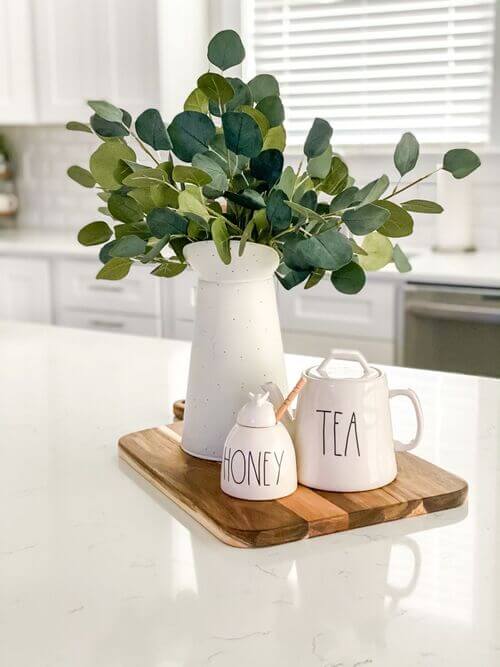 This ceramic tea and honey pot set is a wonderful idea.
You can keep them on your counter and they will brighten up the whole place.
9. Simplistic greenery decor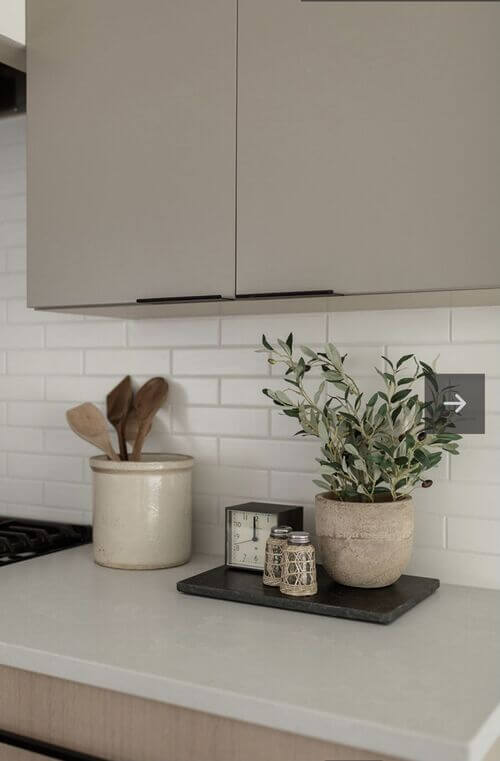 If you want to keep things simple then add some small touches to your counters.
Add flowers or herbs to the table with a small clock and matching salt and pepper shakers.
10. Wood board and baby's breath decor stand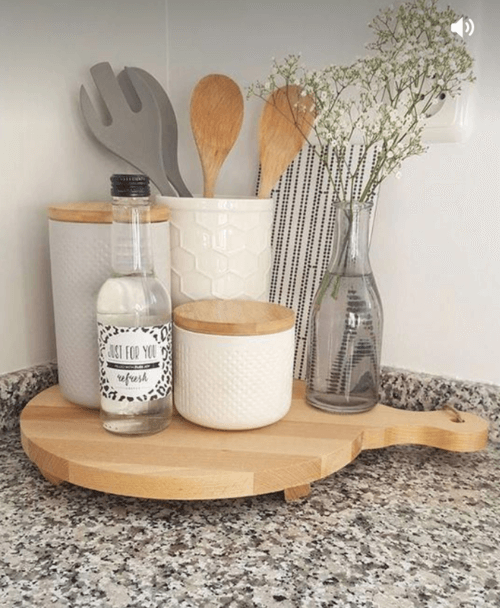 It's always great to add some flowers to your kitchen. It freshens up the whole atmosphere.
You can add some small flowers, like baby's breath, to any surface because they don't take up a lot of space.
11. Black and white kitchen essential tray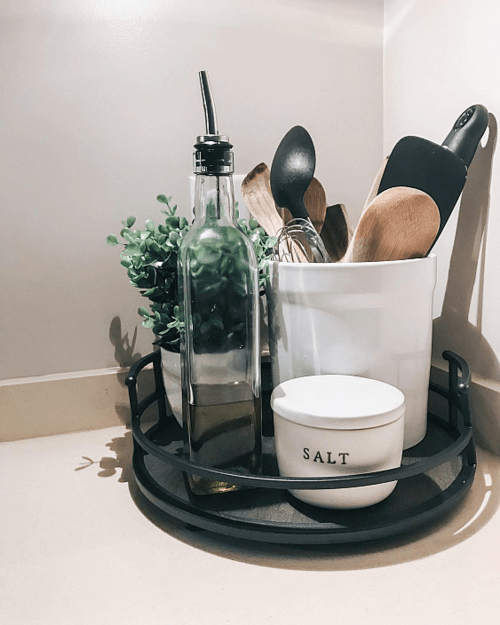 This black and white tray filled with essentials is a nice and bold addition to your kitchen.
It's slightly different from the usual wood and marble kitchen decor and will stand out when you add some greenery.
12. Kitchen cleaning tray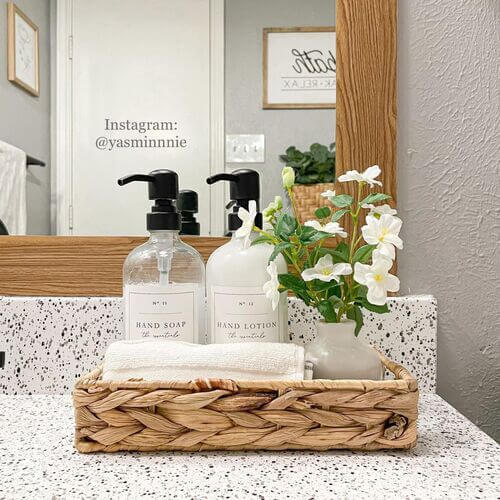 Keep a little tray with hand soap and towels in the kitchen for easy access.
It's the perfect size to add next to your kitchen sink.
13. Wood and marble kitchen tray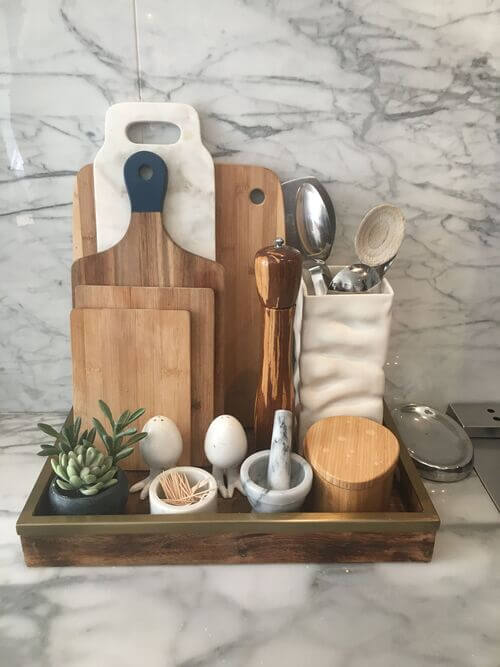 Keep all your needs together.
You can add salt and pepper shakers, wooden cutting boards, toothpicks, mortar and pestle, and utensils.
The wood and marble tie in together perfectly.
14. Dish soap holder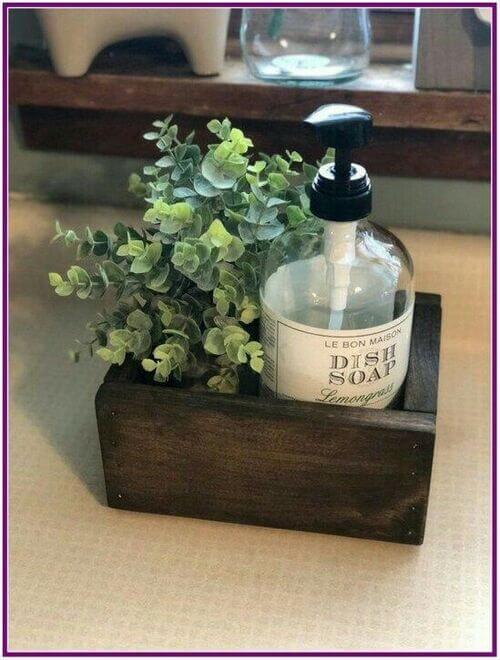 If you want something a little smaller to add to your kitchen sink.
You can use a little wooden box and add some fake greenery and dish soap to it.
These little boxes are great since they don't take up too much space.
15. Fairy light and ceramic kitchen tray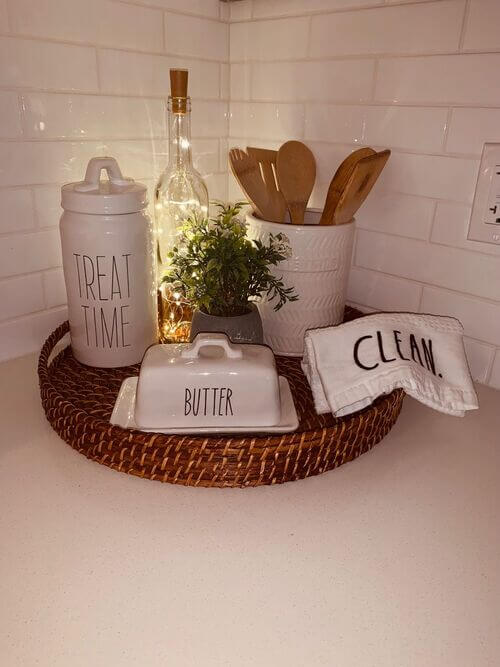 Brighten up the hidden corners in your kitchen by using fairy lights and white ceramics.
You can pair this with a wooden tray that can tie everything together.
16. Books and greenery decor