Hey there! Some links on this page are affiliate links which means that, if you choose to make a purchase, I may earn a small commission at no extra cost to you. I greatly appreciate your support!
This post shows you the best housewarming basket ideas.
Moving is one of the biggest joys in life.
You get to decorate your own house and make it a home.
It offers the opportunity to experience new things and start a new chapter in your life.
So how does one celebrate such an occasion?
By throwing a fun housewarming party of course.
What is a housewarming?
Housewarming is a celebration that is held with friends and family.
It shows the start of a new adventure by celebrating the massive achievement of buying your own home.
Friends and family are invited and usually bring you housewarming gifts to make your new house a little homier.
By creating a housewarming basket you are creating a gift box filled with items that someone can practically use in their home.
It isn't some baked goods, but rather a cupcake mold so that they can create their own homemade goods. 
Housewarming gift ideas
We all know it can feel a little overwhelming to find the perfect gift for your friend.
How do you know what to buy?
You can create a wonderful gift basket by compiling items that your friend would really appreciate and adding a little note card with congratulations on their new home.
This gift can be given at the party, or if you are unable to make it, you can still send it to them to show your excitement.
The perfect gift isn't the fanciest thing you can buy. It's the ones that are thoughtful as well as useful in the long run that make the best gifts.
You can look at cute mugs, planters, kitchen towels, kettle, baking tins, door stoppers, or even cozy blankets to warm up the living room.
The possibilities are endless, especially if you know exactly what your friend needs or wants.
Considering that you can put anything into these baskets, you might want to think about what you wanted or needed when you first moved into your home.
This will definitely help you pick out the perfect gift.
1. Welcome home package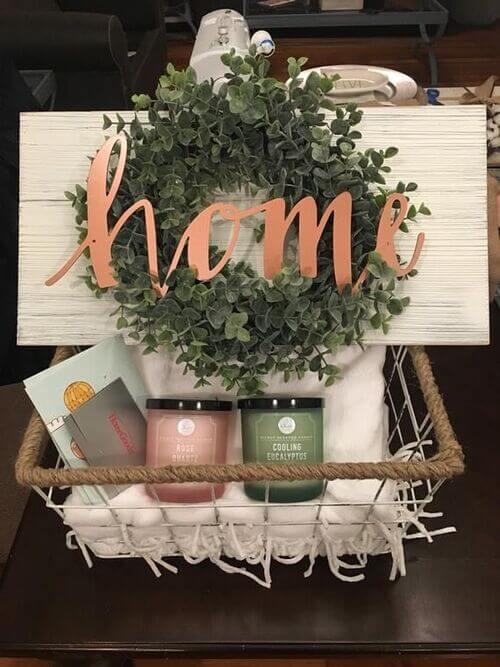 Offer the gift of a warm welcome by giving your friend this cute package.
It gives you a simple idea of what to add to a welcoming gift.
Make use of scented candles, a welcome wreath, and just some basics every homeowner needs.
2. The kitchen utensil starter kit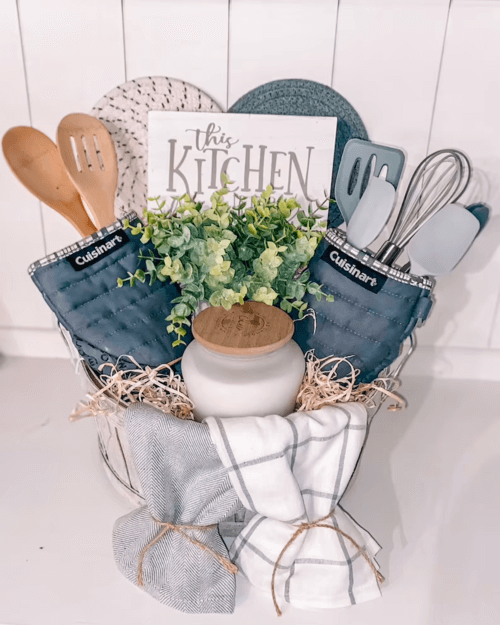 If your friend is big on cooking, I highly suggest getting them some brand-new utensils to use in the kitchen.
Maybe some new tools will inspire them to create unique dishes. You can even add some kitchen towels too.
3. Set the mood for date night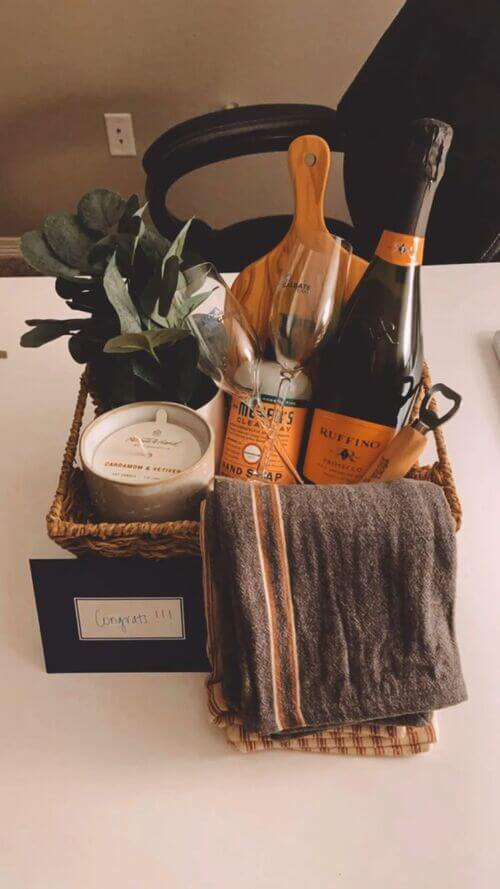 Keep things basic by adding simple celebration gifts.
Set the mood with scented candles and a fine bottle of wine or champagne.
4. Kitchen decor for a welcoming home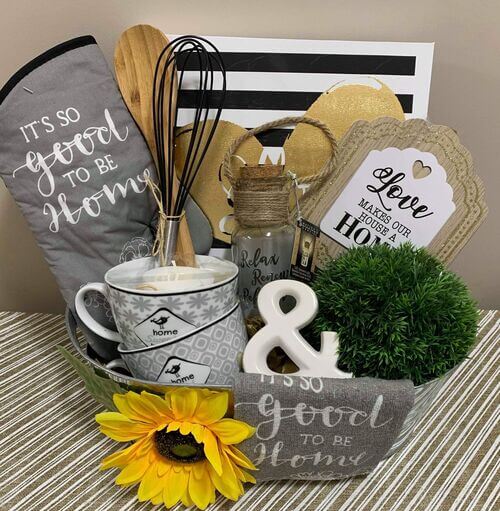 Every kitchen needs some goodies like cups, oven mitts, towels, greenery, and candles, so this will be absolutely amazing as a housewarming gift for your friends.
Add some lovely quotes that are special to their home as well.
5. Cute kitchen set up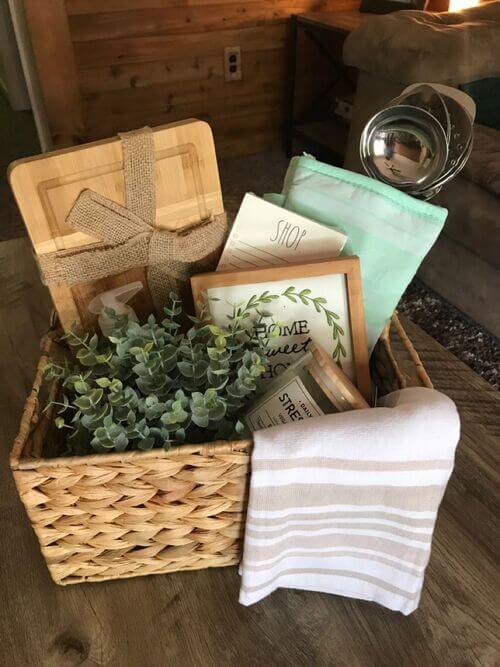 Nothing says welcome home like a well-furnished kitchen.
Create a gift set with lovely quotes, a wooden cutting board, and nice greenery to liven up the kitchen setting.
This works well if you know that your friend loves spending time in the kitchen. Adding a magnetic to-do list for the fridge is also a wonderful idea.
6. Guest bathroom sets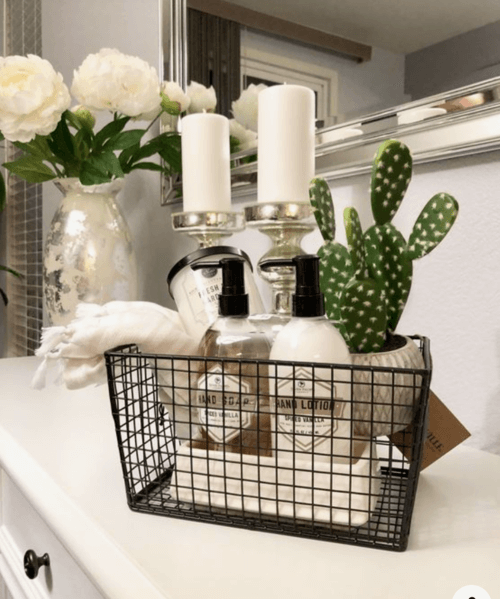 Sometimes it can be hard to find a nice housewarming gift, so why not get a nice bathroom set?
This can include soap, cream, hand towels, and a nice candle.
This is simple yet great for the first-time homeowner.
7. Time for tea table set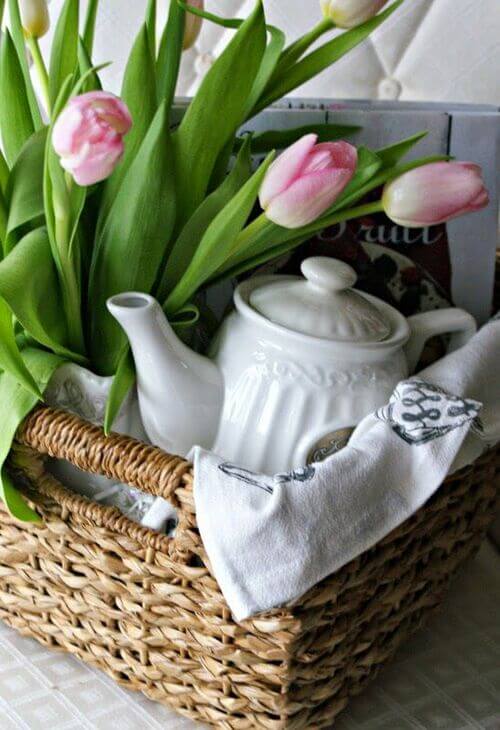 If your friend is someone who loves adding decor then this is perfect for them.
This gorgeous teapot would be a lovely addition to the kitchen paired with some plants and maybe a nice vintage wooden tray.
8. Gin table starter kit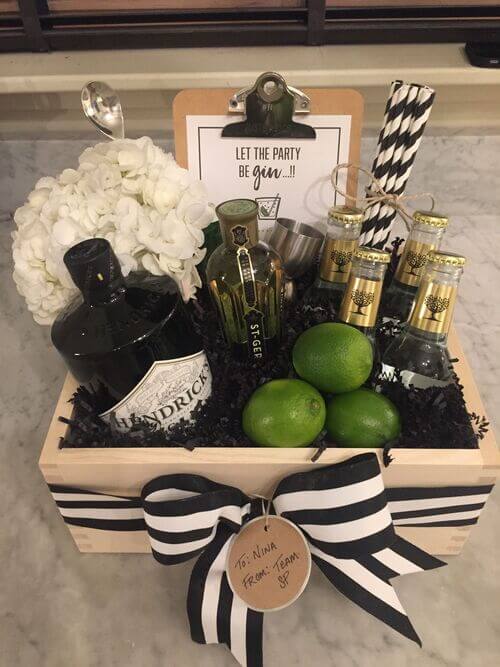 Is your friend more into fancy liquor?
Then get them a gin starter kit or even a fancy bottle of gin they can showcase in their living room for all their guests to enjoy.
Some people like to add a mini beverage cart for the convenience of serving guests, and I feel like this is a wonderful idea.
9. Bathroom sets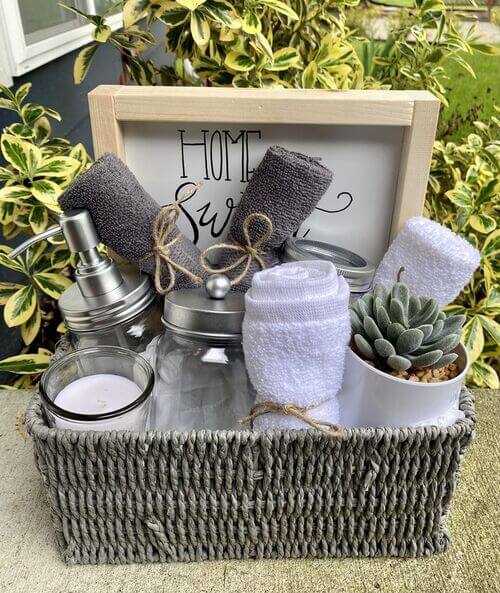 You can never have too many bathroom sets.
Get fancy soap and cream sets for your friends to use in their bathrooms.
This allows them to use your gift and save some money in the future.
10. Mini coffee bar set
If your friend is a bit of a coffee fanatic, get them some coffee bar sets to use.
This works well if they like to explore different flavors without having to pay a load to get them.
11. Kitchen basic gift basket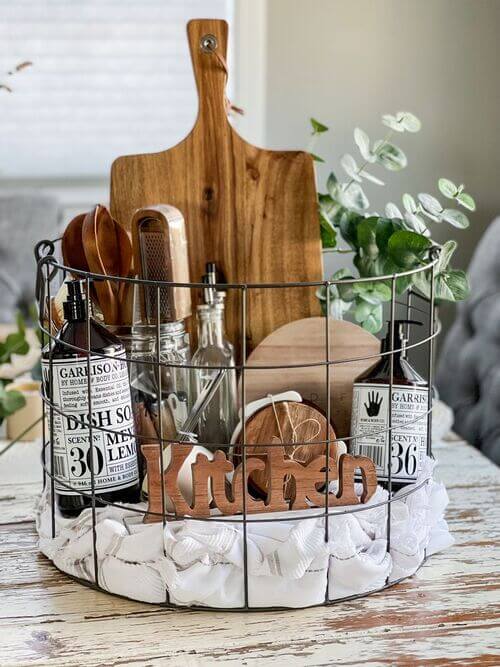 This housewarming gift holds everything you need for your brand-new kitchen.
You get a new wooden cutting board, dish soap, kitchen towels, utensils, and condiment dispensaries you can reuse.
12. Decor gift set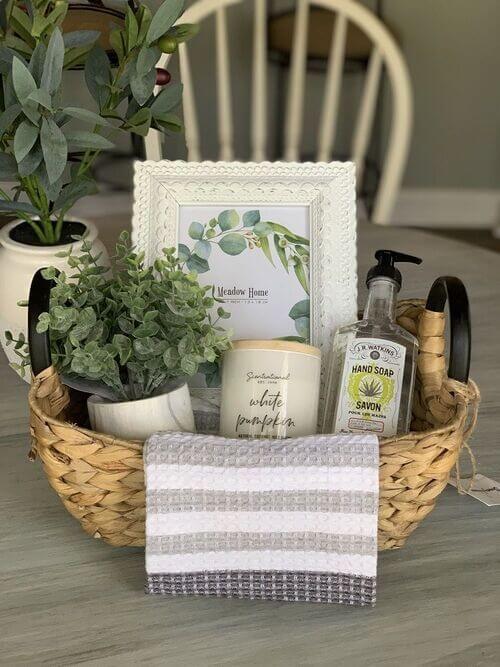 This set is the perfect housewarming gift.
You can add a few small items that can be used around the house for some added decor.
With the small frame, hand soaps, fake potted plants, and some other goodies like candles, table decor, or some nice hand towels, this makes the perfect gift.
13. Staying in, gift set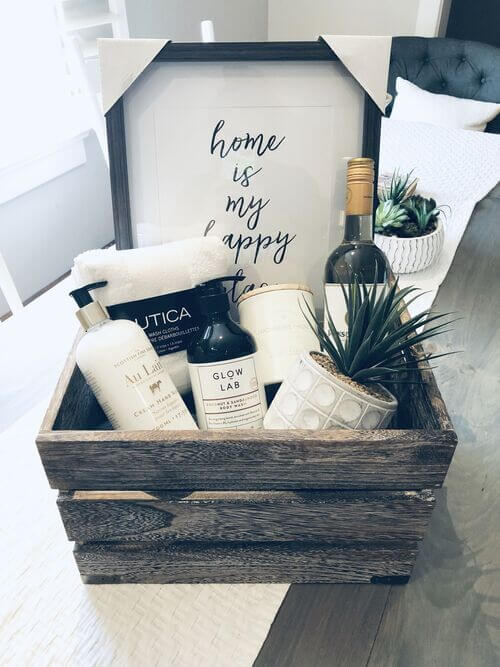 What better way to say welcome home other than picture frames, wine, and some self-care goodies?
This allows you to add personalized items to the gift basket so that the person you are gifting this to feels like it was made specifically for them.
14. Welcome home gift basket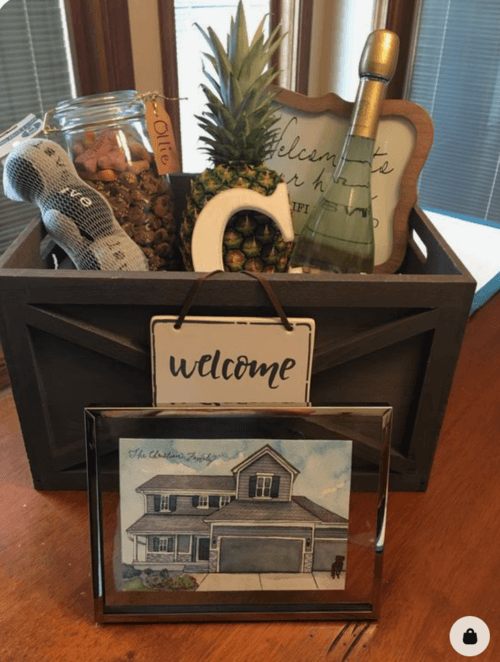 Buying a house is an extremely important milestone. It needs to be celebrated. 
Create a gift basket with a drawing of the home, champagne, and some champagne glasses to celebrate the right way.
15. Cozy blanket gift set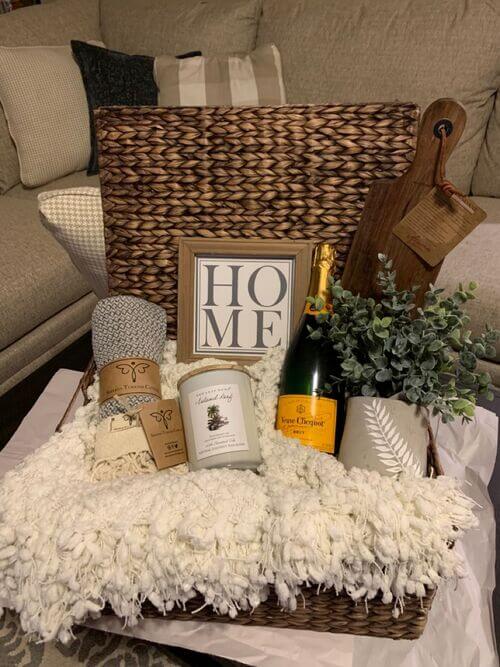 You can never have enough blankets in your home.
This gift is perfect for anyone moving into a new home.
Cozy blankets are a sure way to make any place comfortable and personal.
16. Bathroom greenery set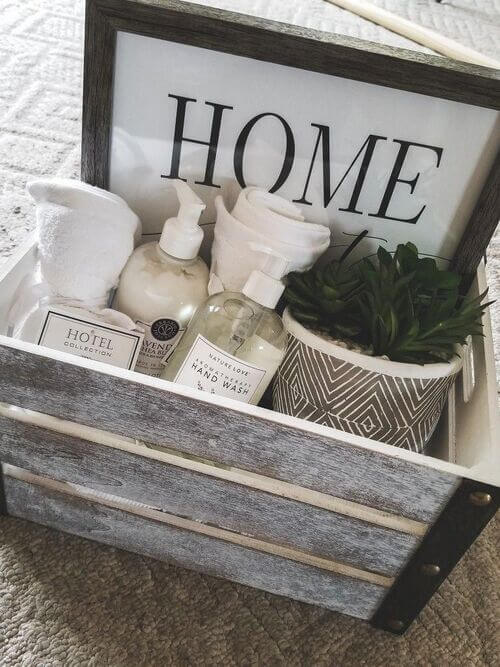 Every bathroom needs some greenery to liven it up.
Whether you make use of fake floral arrangements or add some eucalyptus (which is very beneficial), they are great options to brighten up a bathroom.
17. Self-care housewarming basket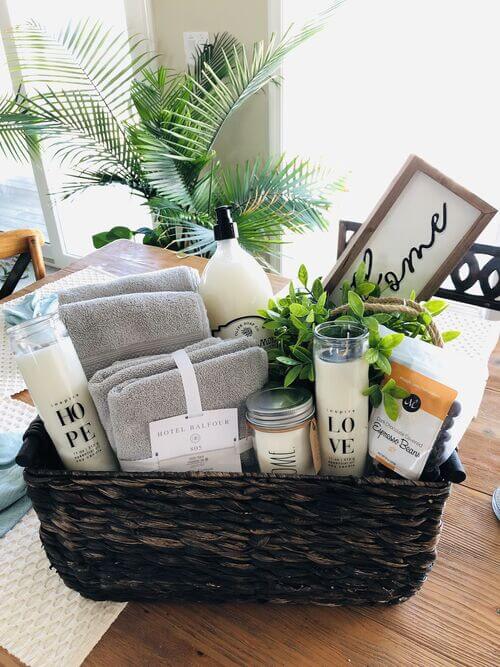 Moving can be stressful.
That is why I highly recommend getting a self-care kit as a housewarming present.
Add some candles, face masks, a bubble bath, and a bottle of wine to create the perfect gift for the first peaceful night in the new home.
18. Luxury kitchen gift set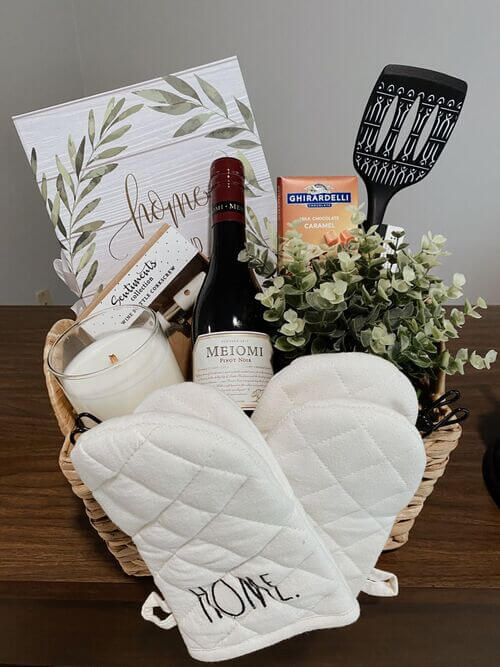 This gift basket is ideal for the baking lover.
Brand new oven mitts, a bottle of their favorite wine, some decadent goodies like caramel or chocolate, a cookbook for all your baking needs, and an aromatherapy candle.
What more can you ask for?
If you feel up to it, you can add some herbs so that they have everything they need right at their fingertips.
19. Celebration gift set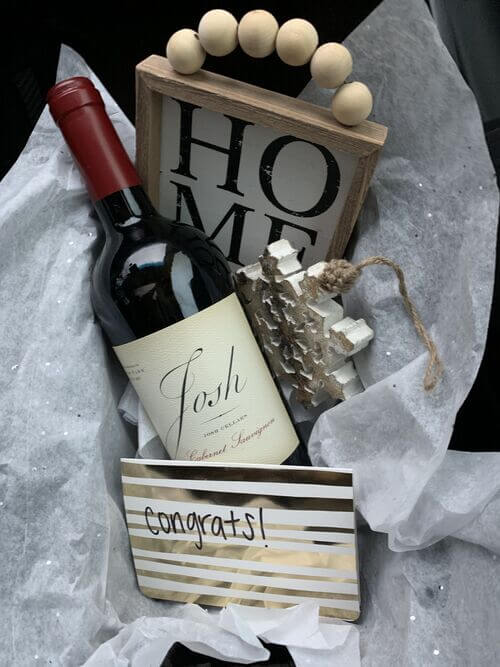 If you can't make it due to life being a little busy, this is a great way to show you care from far away.
Send them a goodie basket with a personalized note, champagne, and decor they can place around the house.
This shows that you don't have to be there to show that you are happy for someone.
20. Set the mood candle set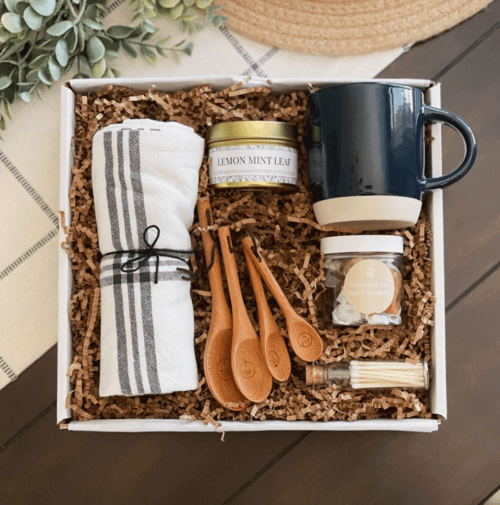 Every home needs to have its own warm and welcoming scent.
Give some scented candles as gifts to set the tone of the new home.
These great pieces can be added to any part of your home.
21. Get to cooking housewarming set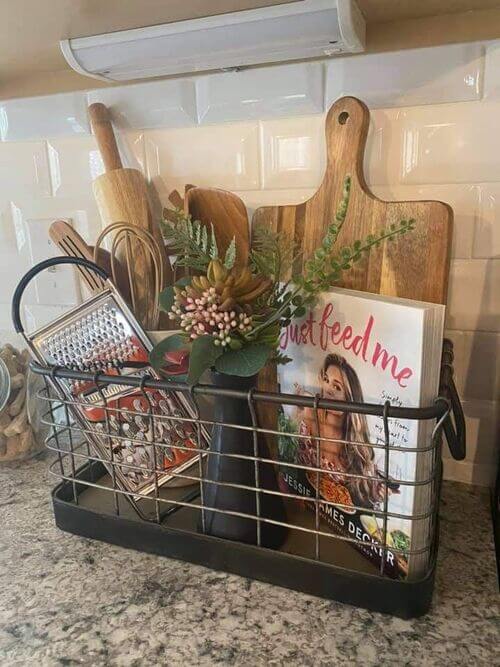 If cooking is more your scene, get them a gift set with the basic utensils and their very first cookbook to fill their home.
22. Housewarming kitchen set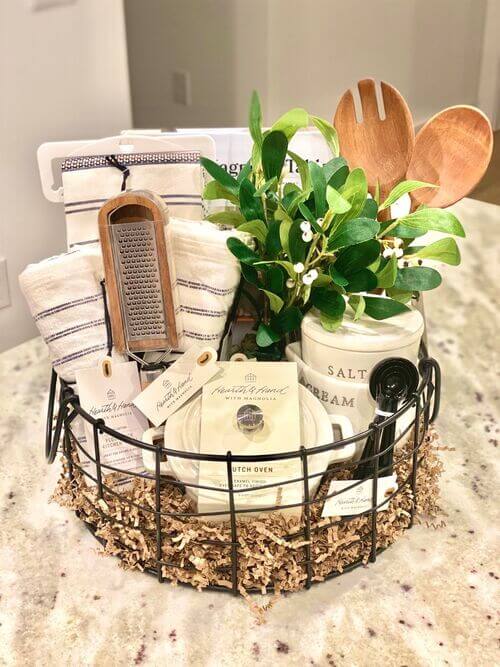 What do you give the friend that has everything?
You get them something they never would by themselves because they would never think about buying these items when they have everything they use in their daily lives.
This can include some new kitchen towels, lemon zester, herbs, wooden spoons, wine corkscrew removers, salt and pepper pots, measuring spoons, and whatever else you can think of.
23. Gorgeous house wine set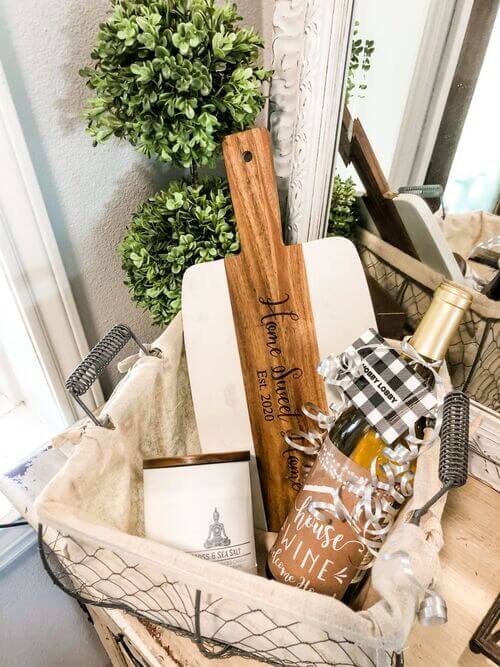 What better way to remember the day than by creating a custom house wine that you can keep forever?
It's the perfect addition to each home.
24. Slow cooker housewarming gift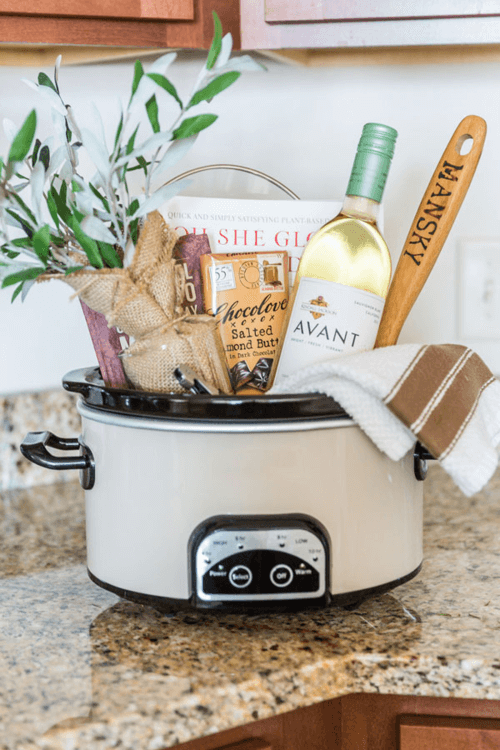 If you're looking to be a little more pricey, get your friend a slow cooker to make all their favorite dishes in one place.
You can add some oven gloves, recipe books and a bottle of champagne too. While this gift set is more expensive, it is absolutely worth it.
This is something they can use over and over again.
Are housewarming gifts
As you can see from the above-stated information, you don't need to go all out to celebrate a fun housewarming with your friends.
Be original and buy some things you know you would've loved for yourself.
The fun thing about housewarming gifts is that you never know what to expect by receiving them because everyone's perception of household necessities might be different.
That said, we can sum this housewarming article up by saying, think of what you'd buy yourself.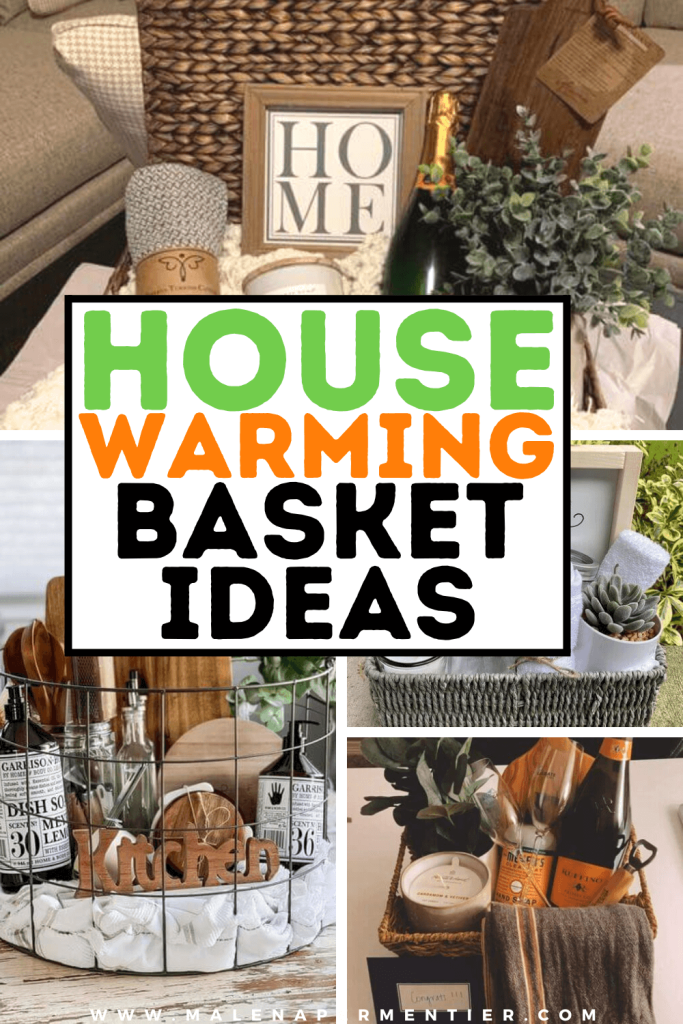 This post showed you the best housewarming basket ideas.
You may also like: