This is my first year making a living as a freelance writer! I made it happen with zero contacts or knowing anything about how freelance platforms work. Today I want to share with you everything I know. Why? Because there is not enough transparency about how this works and I'd love to save you some time and headache.
So, if you've been thinking of getting into freelance writing, then read this. I promise you'll be soon on your way to earning your first $1000.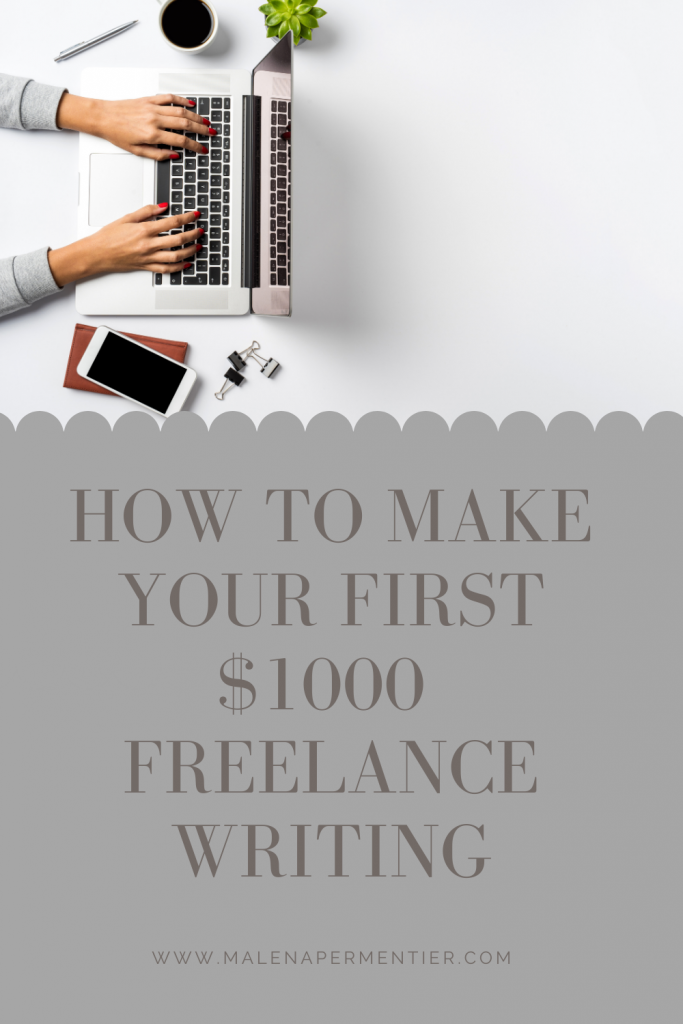 Sign up to a freelancer platform
There are many freelancer platforms out there, but I'd highly recommend using Upwork. I've tried a few other platforms, for example, Freelancer.com, which was a waste of time. Why? Because they attract spammy jobs, with weird requirements and low pay. I've heard of Fiverr, but I don't have any experience with it.
Take the application VERY serious
At least 50% of getting freelance writing jobs is about understanding how the platform works. What do they want to see? What skills are in demand? It's all about including the information that makes you look like you know what you're doing. Treat your application to a platform like Upwork as if you're applying for your dream job.
Focus on one skill
Upwork wants to see within one glimpse what you offer. Keep that in mind, while preparing your application. If you're looking for copywriting jobs, make sure that all the information you include in your profile support that very skill. Even if you haven't had paid clients before, that's okay. Just make sure you have a few articles to show your expertise.
Understand the market
Upwork is always eager to accept profiles of people with an in-demand skill. So do a little market research about freelance writing. What's going on in 2020? Any sought-after type of writing? High-conversion copywriting is always in demand, so that's a safe bet, especially if you're just starting. You might prefer taking on creative writing projects, but you can focus on that later when you're accepted.
Stick to your main niche
With freelance writing, many different skills come together. Firstly, there is the ability to write good copy. But there's also creativity, branding, SEO, and marketing that play a part. When you start freelancing on a platform like Upwork, it's good to stick to a firm niche. Even though you might be skilled at copywriting, marketing, and SEO, choose the main focus and let the other skills support the top skill.
Get reviews
The most important thing to get things rollin' on Upwork is to get reviews. There is only one way to do that: to get jobs. If you have been applying to many jobs and not getting any, I recommend you ask a favor of a family member or friend. If they have a business for which they regularly hire copywriters, ask them to offer you a job on Upwork.
Be persistent
One thing that is annoying about a platform like Upwork is that it takes real effort to make things move. To give you an example: clients are reluctant to hire you without a verified profile. But at the same time, Upwork usually won't verify your account until you've landed your first job. It's an annoying little cycle, but I promise you can break it! If you have a solid profile, a verified batch, and at least one review, work will come.
"Focus on growth rather than perfection and you will keep on moving up."
Start at a low rate
When you first start on Upwork, it's all about gathering those positive reviews ASAP. That's why it's smart to offer your services at a low rate. Think of $20 per hour or 0.02 per word. Once you start working with clients and building up a solid reputation, you can change your rate accordingly.
Seek out jobs with space for growth
Before applying to a job, check the client's profile thoroughly. Do they have positive reviews? Are they offering longer contracts? There is a lot of information you can find here, so use it in your favor. Upwork is ideal for building relationships with steady clients who need copywriting, so taking the time to seek out the good ones is worth it. If it's longevity you're after, always check that.
Always charge for test jobs
Many clients want to do a little test job with a writer before hiring him. That is fine but always charge for it. Unless it's a small test that doesn't take up much of your time, don't work for free.
Remember: the beginning is tough
If you want to start making money with freelance writing, you totally can. Just be mentally prepared that you need to put in time and effort. Once you have a few positive reviews, a verified profile, and a rising talent badge, the job offers will come flooding in!
It took me two months to make my first $1000 on Upwork, but the hustle has paid off. I now work with 3 steady clients, and I get lots of job invites. Building up a solid reputation takes time. But it's incredibly valuable because it allows you to increase your rate and get better jobs. Good luck!