This post includes the best truth or drink questions for couples!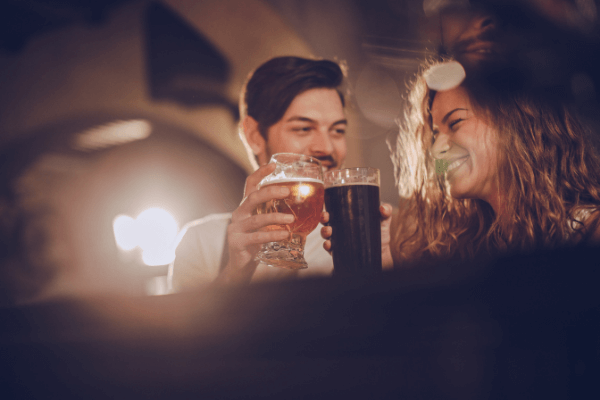 Truth or drink is a great way to get to know your partner! You can also use these questions with a potential crush.
Truth or drink is a fun way to start great conversations!! These questions also add a little fun and even depth to your relationship.
What do you need to play truth or drink?
At least two people
Drinks of choice (add shots if you're in for a spicy night)
Truth or drink cards (or have these questions ready on your phone!)
Let's try out these couple truth or drink questions for a romantic night.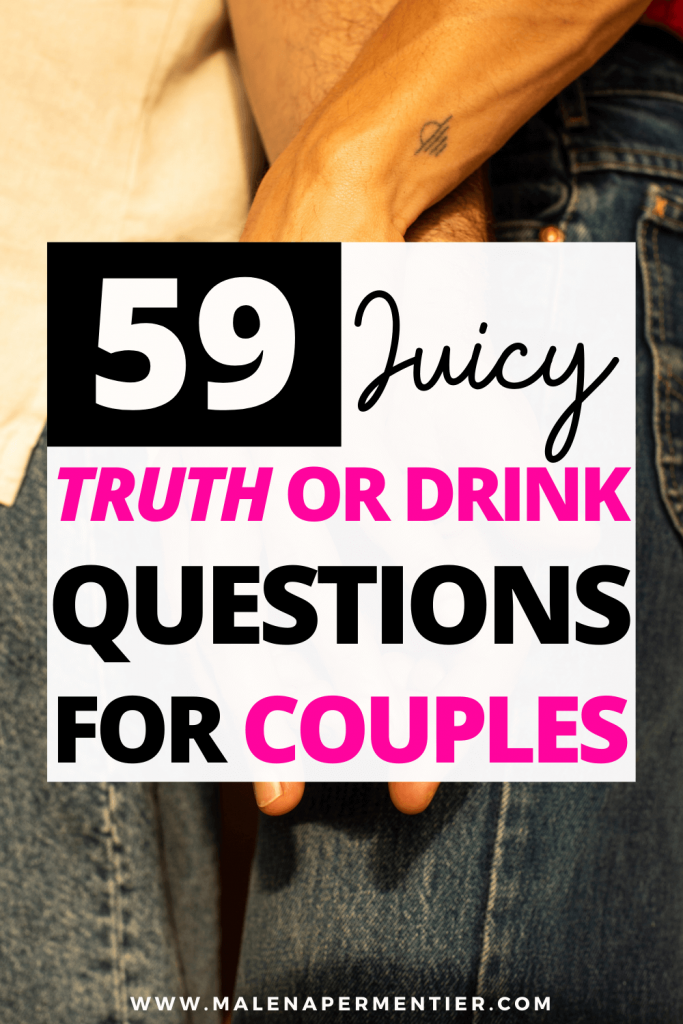 Drinking game questions for couples
Good questions for a couples' drinking game can be a mix of fun and light questions and some heavier ones!! Don't overdo it with the intense questions because you will get into a fight.
1. What qualities do you love most about me, and why?
2. When was the last time you cried?
3. What is something everyone loves but you find overrated?
4. If you had to rate our sex life from 1/10, what would it be, and why?
5. What is the worst lie you've ever told your parents?
6. Do you think about our future together, and if so, what do you imagine it will be like?
7. What is one unpopular opinion you have about relationships that nobody else seems to agree with?
8. You get 3 words to describe yourself; what are they?
9. What makes you jealous?
10. Do you think our relationship sometimes gets into a rut, and if so, why?
11. What's your favorite thing to do together?
12. What is the best thing I could do to organize a surprise date night?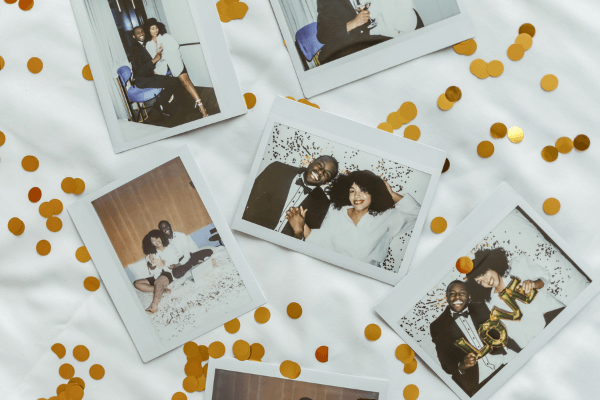 Truth or drink questions couples edition
13. Out of the two of us, who is most attractive?
14. What is something weird you do when I'm out of the house and you're alone?
15. What is the worst present your partner ever gave you?
16. Who is your secret crush?
17. What have been or what are your biggest dating insecurities?
18. When we first started dating, what did you think of me?
19. Tell me something you are always afraid to express?
20. Did you ever have a Tinder profile?
21. If there's anything that could cause us to break up, what is it?
22. What do you think is the key to a successful relationship?
23. When did you first know you were attracted to me?
24. How have I changed since we met?
25. What is your deepest fear about yourself?
26. What is the dirtiest text on your phone? Show me.
Truth or drink questions dirty edition
27. Have you ever been intimate with someone in a public library? 
28. What is your favorite memory of us together?
29. Have you ever sent inappropriate selfies to an ex?
30. What's the sexiest thing I do that you like?
31. Have I ever (almost) caught you doing something dirty?
32. What are your favorite types of kisses?
33. What is your most embarrassing fantasy?
34. Have you ever hooked up with someone you didn't know?
35. What is my most attractive feature?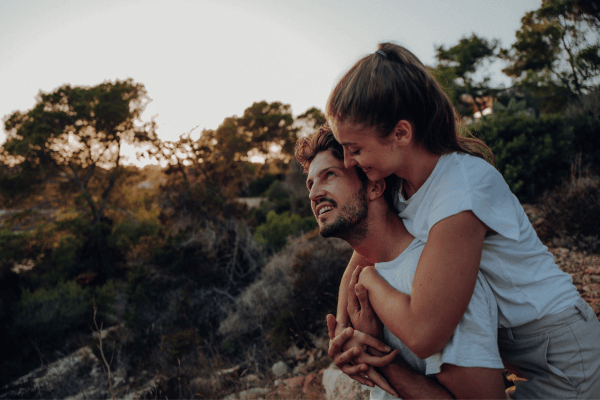 More Juicy truth or drink questions for adults
36. What's the most shallow reason you didn't go on a second date?
37. What is your biggest turn-on?
38. What do you wear when hoping to go home with someone?
39. What's your type? Be specific.
40. Where is the grossest place you've ever hooked up?
41. Have you ever asked for a dirty pic?
42. What was the most embarrassing thing you ever did while on a date?
43. Name two of your guilty pleasures?
44. How old were you when you first had sex?
45. What's your "number?"
46. Last white lie you told your partner?
47. What would you do if you could get away with anything?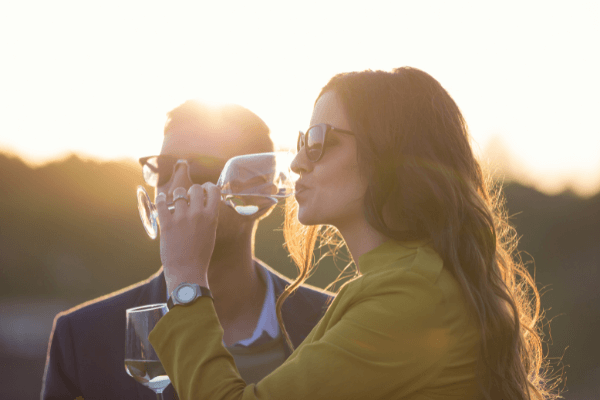 Deep truth questions for couples
48. Who did you last say "I love you" to?
49. Do you have trust issues?
50. What is the most stupid thing you've done in front of a crowd?
51. Do relationships require 100% honesty?
52. Have you ever read your bae's texts over their shoulder?
53. Do you think the relationship is dead if a couple stops having sex?
54. Is love at first sight a real thing?
55. How do you deal with disappointment?
56. What is something no one knows about you?
57. How do you define beauty?
58. What are you too hard on yourself for?
59. Have you ever done anything that you hope nobody finds out?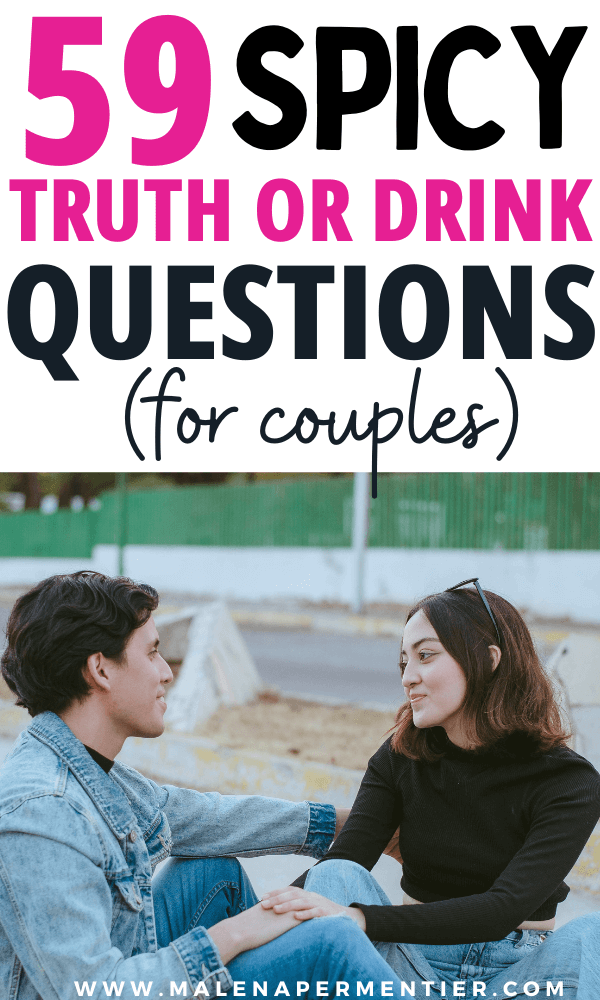 This post was all about the best truth or drink questions for couples.
You may also like: